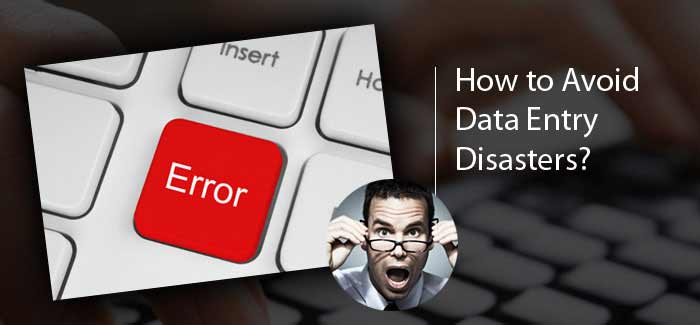 Women produce about 10 million new Sperm daily – What earth shattering thing was that – This will be you first reaction when you read this sentence; Mine was the same!!! Then I realized that there was nothing wrong with the nature – it is just a DATA ENTRY ERROR! Flawless Data entry for establishing reliable database has become an imperative part of any organization; irrespective of the industry. Every enterprise has to maintain an information cache that helps them to sustain their business in this information-obsessed era. Importance of accurate data can never be undermined – Inaccuracy is likely to create irreversible damages and misunderstanding!!!
Anyways, since accurate and error-free database has become the need of hour; one needs to be very careful and very alert as to avoid any silly mistakes; which can change the context
In this article, we shall have a look at some basic errors and how to deal with them and avoid in future:
Transcription Errors: When someone is dictating and you are typing really fast; you tend to make mistakes; sometimes, you hit the wrong key or sometimes, simply type the same thing twice; it just goes out of notice. This happens to be a common transcription error.
Transposition Errors: This is a considerably common mistake when people are keying in numerical data. For example; instead of putting in 2368, they put in 2386 or something very much similar. Such mistakes can lead to grave situations!
Okay, I guess, the error part is clear – On personal level, I feel; it is simply fine for people to make errors; especially when they are sitting for long hours typing in data, however, in many case (like the one illustrated in the very beginning of this write-up) can have serious repercussions. (On a humorous note: It can change the law of nature;))
Anyways, if there is a problem; there is always a solution!
You can always take few steps to ensure that data entry mistakes reduce considerably and you can avoid some blunders!
Well, it is not possible to eliminate these kind of errors completely (to err is human!); that doesn't mean you can never reduce them. First thing, you can do is to have someone else to proofread it or double check it. It is much easier to catch other's mistake; hence this exercise will prove to be highly beneficial!
Secondly, when you are at peace; you tend to make fewer mistakes; so provide a good working environment for data entry operators. Make sitting and overall environment friendly and comfortable. Ensure they have proper chairs to sit and proper equipment.
Moreover, give a break to the staff – Let them go for some refreshments whenever the work becomes repetitive and mundane; this exercise will help them to pay more attention; and hence prone to less errors.
Be reasonable while giving deadlines – Remember that rushed work is never perfect. Give them enough time to finish their work and even cross check it.
Lastly, software plays an important role – Consider using software such as a PDF to Excel Converter to reduce the load of your resources.
Prefer taking data-on-paper on spreadsheets, as it is easier to work with the data once it comes on Excel. It will save lot of time and energy; since you don't have to sit for typing; eventually it is leads to fewer errors and more time to, analyze or work on rectifying the mistakes.
Human nature is to make mistakes; so you cannot expect it to diminish completely; but yes, you can definitely be careful and avoid them. Or you may also take assistance of professionals who are prepared – trained – skilled and doing data entry is their core competency.