August 21st, 2018
Data Collection, Real Estate & Facebook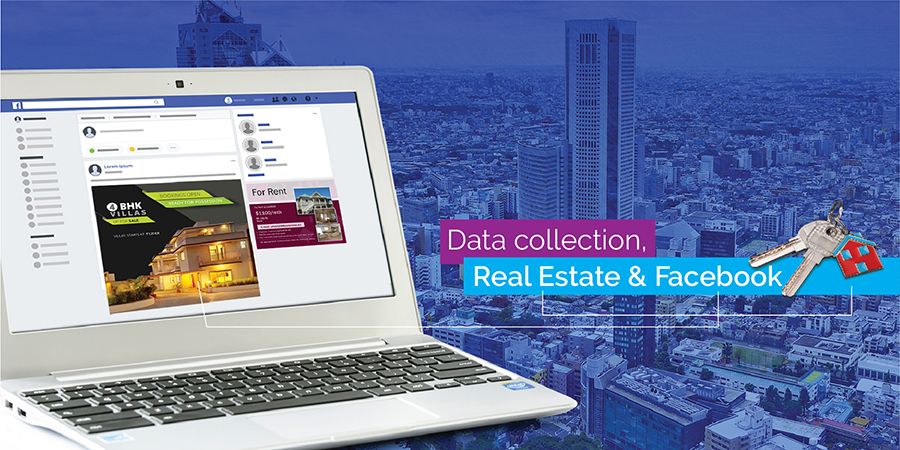 A fine morning on my way to office I suddenly received a message from my landlord to search for a new apartment. Left with no option I started looking out for a few apartments and got engrossed in searching for a rented apartment whilst pushing few of them in my wish list. Later while getting back from a busy day at office I open my Facebook and found relevant ads of apartments for rent popping up on my screen. How is this possible? I haven't even searched for apartment on Facebook… so? How exactly Facebook knew what ads to show? Well then you have come to the right place!
In this article, we will go through how Facebook helps in collecting user information and how real estate agents and real estate firms can use it for better business opportunities.
It is getting quite common these days when people browse through their Facebook they come across a perfect ad at a perfect time. While buying their favorites just by seeing the ad, people tend to forget how this ad popped up. Well these are not mere coincidences; this is a tip of the iceberg of the massive data collection strategy.
When it comes to data collection, Facebook has spent lot of time innovating so that they get into the smallest detail of a particular customer, and thus data gathering is undoubtedly a notable asset to Facebook.
Following best practices at Facebook
Have you ever wondered how Facebook possesses massive data? Facebook is been buying data from brokers and third party since long. Millions of Peta bytes of data are aggregated from various data gathering sources. These datasets tell them about behaviors, interest and demographics of different users. Don't believe this then just take few minutes and check your ads manager. You will be stunned seeing the access of information Facebook has.
There are various sources through which data is collected like from credit card providers list, public databases, mailing lists and much more. Companies like Acxiom, Oracle, Epsilon and data Logix are data brokers providing information about customers. Suppose if you visit a site like relator.com, they will capture the details like the areas you explored on website, the items you checked out and then this information is packaged and sold to Facebook. Later this accumulated data is used to target potential customers and passed on to advertisers to make customers get interested in their services and products.
Facebook is getting data from almost every search engine, top retailer or popular food chain company or a financial institution to prepare a customer information database to be used for customer behavioral analysis.
How is Facebook working in background?
Nowadays all web profiles provide sign in via Facebook, this proves that the data is been paired with third party platforms and profiles. However this helps Facebook collect your information like search history, contacts, friends from all accounts accessed from anywhere in the world. There are complex algorithms working in background which can help retailers understand buying behaviors of customers and can help to anticipate the next move of customers.
This did not happen in a day or a two, but Facebook had been laying a foundation for information gathering. This large petabytes of data collected in database is definitely a key success for Facebook. This helped advertisers get the right source of information for targeting customers; this is making Facebook the most popular and largest advertising platforms in the world.
Becoming better than past
Facebook has continued to make massive improvements when it comes to their advertising platform, and data gathering is arguably the most valuable asset for them. With the advancement of technologies Facebook has now started using 'Applied Machine Learning' to improve their existing practices. This will refine the advertising platforms to a whole new level and helping the real estate agents getting accurate target customers.
It's no secret that people buy property. Be it office space or a house and it is always going to stay a necessity. Real estate agents will always be able to get right customer if they use right marketing tricks. Facebook is always an assistant and by taking right steps in right direction it will only help in getting better target audience. Also there are outsourcing partners and data collecting service providers who consider your needs to provide the right type of customer data to realtors.
Data collection from Facebook, benefits real estate
Facebook is leading the social media arena with more than 1.8 billion active users, who are buyers, tenants, landlords or sellers and all of them have their unique requirements. Real estate firms or realtors as we call them, can no longer ignore the fact that they should outsource web scraping activity to experts to reap benefits from data available on Facebook. Accurate data scraping from Facebook, will not only help them personify their brand, but also will help them engage with their clients on a one-on-one basis.