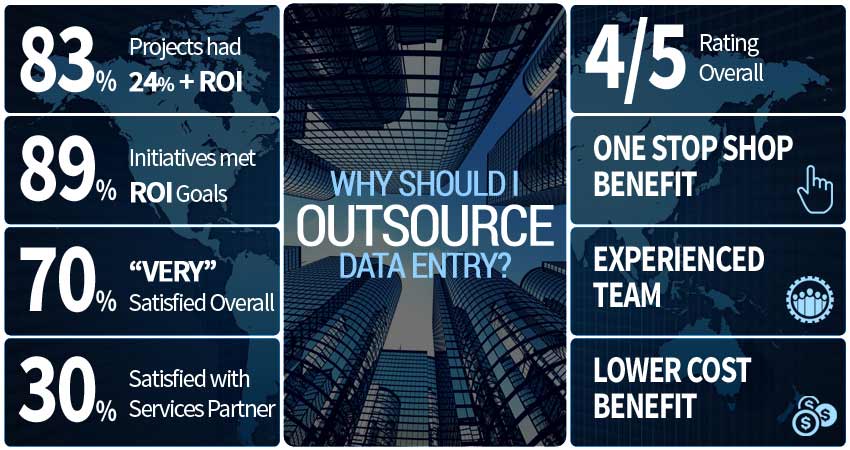 Save time, reduce your administrative burdens, resources and increase top line growth of your company, followed with cost effectiveness is what makes Data Entry/ Data Processing a core necessity. One more objective that you achieve is the saving on large scale investments in setting up required infrastructure for the data entry process, and save on the expenses incurred to hire data entry manpower and their salaries.
A group of 300 executives actually involved with outsourcing services, particularly data entry services for their clients were surveyed to reach a conclusion that suggested:
83% respondents confirmed that their outsourced data entry projects had met the ROI of 24% plus
89% confirmed that their data entry outsourcing initiatives met their ROI goals
30% confirmed that they were "JUST" satisfied with the results of their outsourcing partner
70% participants surveyed said that they were "VERY" satisfied overall
4 out of 5, is the rating these participants gave to overall data entry outsourcing activity
Source: deloitte.com
You may be from Insurance, Healthcare, Retail, Banking & Finance, Media & Publishing, Travel & Hospitality, Energy & Utilities, Manufacturing, or Transportation & Logistics industry. The task you choose to outsource is bound to vary based on the industry you belong to. However; one thing that every industry opts for is document outsourcing services, with data entry in particular including:
Online & Offline Data Entry Services
Book & Image Data Entry Services
Data Capture Services
Data Entry for Mailing Lists
Data Entry from Handwritten Documents
Data Extraction Services
Document Data Entry Services
Insurance Claims Data Entry
Invoice & Purchase Order Data Entry
Mortgage Data Entry Service
Questionnaires Data Entry Services
Survey Form Data Entry Services
Text & Numeric Data Entry
Website Data Entry Services
What do you get when you outsource?
One stop shop benefit: Data entry has several dependent tasks as well. You may go ahead and hire an in house data entry operator, but be prepared to address the challenges of document management, as it is a subsidiary process. I.e. when data entry for invoices or bills is done in your software, these documents need to be scanned to prepare a digital version of it, which is a dire necessity. In this case you might have to hire a scanning professional and a scanner as well. However; outsourced data entry tasks gives you both, the entry of documents as well as the scanned images of your documents. We work as a one stop shop for all our clients. Our data processing services include data entry, data conversion, forms and check processing, data formatting and cleansing and much more. You basically say what you want us to do with your data and we take care of the rest.
Outsourcing service providers are a ready experienced team. In this arrangement you reach out to the people most suited for data entry projects you want to outsource. You have the advantage to hire highly qualified specialists quickly. We have successfully completed 6500+ projects, through a team of 450+ data entry professionals, for our 3000 plus clients.
The lower cost benefit: Data entry cost in across UK, USA, Europe, Australia and Middle East is much higher than that in India, particularly due to the low cost of living here. Our innovative technologies combined with a service-based approach is to assist you drive growth and build a competitive advantage.
One may come across companies that function completely independently. However, businesses are more about partnership with manpower suppliers and outsourcing contractors. Partnering with outside contractors, or outsourcing, may allow the companies to do business more effectively and efficiently. Companies usually tend to outsource in two different ways, either a single component of their daily operations, or reinvent outsourcing as a strategic part of their business.
A, US based utility portfolio management solution provider, relies on outsourcing data entry services to fulfill their operational model. Their in house teams scanned the invoices of energy bills of electricity, gas and water; and their outsourced data entry service provider operate a complex online data entry process of 1000 plus energy bills through a remote desktop connection, daily on their behalf. Similar, is a bank in Italy that outsourced the process of keying accurate and consistent data from handwritten checks, and the payment processing company in USA which outsourced the task to transfer data from all the checks to software while verifying the SLF rejected by the OCR, Payee and the amounts in cash and studs. But, outsourcing the printing of advertising fliers for these companies would be like outsourcing a portion of their daily operations.
You can perform a cost/time calculation to decide whether or not to outsource a task. You may have tasks that you can conveniently do in-house with the right amount of time and money. i.e., you hire data entry professionals to increase the efficiency of invoice processing process. But in the meantime, you also receive a huge logistics project requiring you to manage other document management tasks. In the short term, you can recruit an in-house data entry professional, with the long term goal to outsource this work to a contractor.
One-time events also work hand-in-hand with outsourcing. If you have current team members with data entry experience, you might decide to manage the logistic project documentation in-house. Otherwise, it may be more cost-effective to take this project to a data entry service provider who has expertise, and can deliver the project with a professional touch in a timely manner.
Upon appropriate utilization, data entry outsourcing services empower you to run your business operations efficiently at low cost. So now you can utilize your resources, maximize your time, and move forward with your core business activities that affect the bottom line.