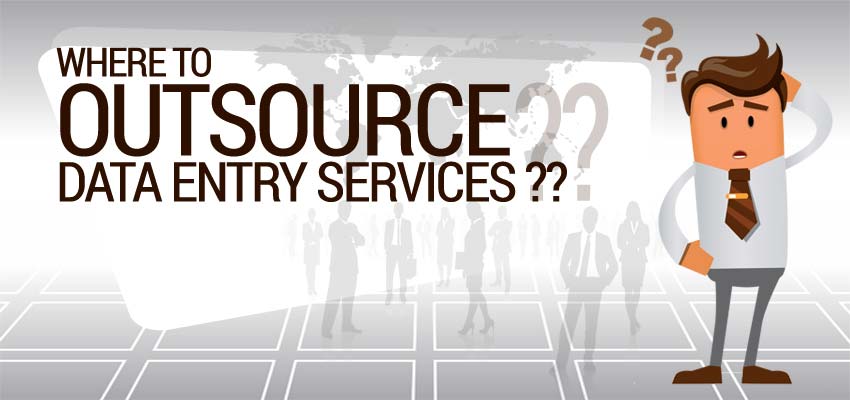 The answer to questions like who are the best outsourced data entry providers? or what is the best online/ offline data entry services providing company in the world?; is something that I suppose would be very subjective. However; there of course are answers to questions like why to outsource data entry, where to outsource data entry services and how to find a globally reputed and reliable data entry services provider in form of "Outsource Data Entry; Why, What, When, How and Who of Documents Outsourcing Services". There are certain set criteria which can work to your advantage while outsourcing data entry service providers.
Data entry outsourcing or multitasking the internal operations; is one of the aspects every organization across the globe has to embrace with open arms, in order to keep pace with cut throat competition, while dealing with tons of data that needs to be digitized – accurately and efficiently.
The best solution to this happens to be "data entry services" which actually refers to the process of accurately entering data from paper documents, images, PDFs and several other documents. Your data entry service providers not only offer quick access to accurate information, but it can also increase operational efficiency. So now that half the challenge is resolved, the second part comes into picture and that is, where to outsource data entry services and how can I find a globally reputed and reliable data entry service provider?
Where to outsource data entry services?
Cashing the growth in the innovative and concurrent market dynamics, India has continued to dominate the global outsourcing market in 2015, and is likely to continue the legacy across to 2020 by reaching out to revenues of $300 billion, says National Association of Software and Services Companies – NASSCOM.
The BPO sector also is amongst one of those largest employers with nearly 3.5 million professionals, adding over 230,000 employees every year. The Indian BPM – Business Process Management industry grew in double digits with $108 billion in revenue, accounting for 56% percent of the global outsourcing market as compared to 52% in previous years. I think this very well justifies that a data entry service provider company in India, is exactly where you should outsource data entry services.
How to find a globally reputed and reliable data entry service provider?
Searching a reputed and most reliable data entry service provider can be a tough task for a good number of reasons. The huge number of outsourced document management service providers make it all the more difficult to reach out to the right kind of innovative BPO partner. Let me help you with some of the check points that certainly will work to your advantage while you are want to find globally reputed and reliable data entry service provider.
What all data entry outsourcing services do they provide?
A best outsourced data processing partner ensures that their clients get accurate output all the time. They sensibly analyze the data based on client requirements and then send the final output in the agreed turnaround time and output formats via e-mail, FTP or by CD/DVDs. Data entry services that they provide:
Data Entry from Paper / Books or Image
Catalog Data Entry or Data Entry for Online Stores
Business Transaction Data Entry such as Sales / Purchase / Payroll
Keying in from Yellow Pages and White Pages
OCR / Data Capture / Data Collection using any Automated Process
Online Completion of Surveys, Survey Questionnaires and Responses of Customers
Data Entry and Compilation from Websites
Data Entry from Hardcopy/Printed Material into MS Office
Data Entry into Software Programs and Applications
Receipt / Bill Data Entry
Data Entry for Mailing List/Mailing Label
Manuscript Typing into Word
Business Card Data Entry into Any Format
Copy, Paste, Editing, Sorting and Indexing Data into any Format
What all factors you need to consider while assessing, if the data entry service provider is globally reputed and reliable?
Data Security: While opting for an online data entry service provider, you must take utmost care to find out whether the company has adequate security checks and the data is accessed only by authorized personnel. We as service providers are equipped with ISO 27001:2005: Information Security Management System (ISMS) governed data / information security and ISO- 22301:2012: Business Continuity Management System (BCMS) governed nonstop service delivery for continuous business processes certifications.
Use of Advanced Technology and Software: Check out if the outsourcing company uses advanced technology and secure software to deliver best outputs in time – every time. We are equipped with Windows 2012 Advanced, Linux, and Back-up Servers along with EMC Storage servers that supports batch upload/download and can expand to multiple database-server and multiple data/document servers through LAN/WAN.
Accuracy: Select the data entry outsourcing company from India that has exclusive specialists in error tracking and rectification. We use double key method for enhanced and efficient outputs.
Delivery Experience: One of the prominent aspects to the story is to find out whether the outsourcing company in India you are planning to partner with for your data entry tasks, have the kind of delivery experience, the one that your projects or you as a client require from them. Our Project management expertise is backed up by expertise of successful execution of 5,000+ projects for over 3,100+ clients across 50 countries.
Project and Account Management Skills: Your Outsourced service provider might have multiple projects and clients in hand. Do they have that kind of project and account management capabilities to pay due heed to the requirement of each of their individual clients? We have 3100 clients across 50 countries with successful completion of 5000+ projects to our credit.
Executional Capabilities: One needs to check out how fast and in what all conditions the outsourcing service providers can and has provided desired outputs.
Market Understanding & Adaptability: Also check out if the outsourcing service provider you are planning to partner with has the kind of market understanding and adaptability that you, your projects and your business holistically are looking for. It would not at all be in your favor if your data entry service provider is not able to keep pace with evolving market conditions and needs.
Scalability: For instance if you are an eCommerce company and you outsource your data entry service to a service provider. But your data entry service provider is not able to scale up the manpower and infrastructure to math up to your increased need of data entry tasks at the time of festivals i.e. Christmas, spring and so on so forth. This is where the scalability factor comes in to picture. Partner a service provider who is well equipped to increase or decrease the manpower bandwidth according to your needs. We as data entry service providers have a built-up area of more than 70,000 Sq. ft. spread over 7 offices for more than 650+ workstations. This is supported by adequate data storage area with adequate security, uninterrupted power supply with backup UPS and generators, multiple (T-1) Lines for high-speed data communication, adequate fire safety systems, Ergonomically designed furniture and In-house recreation facilities.
Cost Effectiveness: I would say had played a major role in the past why more and more enterprises and organizations outsourced their in house tasks to data entry service providers. But it would not be wrong to say that the trend has changed in last few years. Though Cost remains the prime objective, companies have started paying more attention to all of the above mentioned factors.
The best data entry service provider company in India would certainly meet all these parameters. At Hitech BPO Services, providing data entry is not just about managing your back office operations. It's about improving your business processes for time bound quality deliverables. Scalability is an integral part of our project planning to handle higher volumes. Our process managers lead 800+ FTEs across 3 locations, to manage over 25M transactions every year with 99% accuracy. You can expect much more by associating with us.