January 25th, 2018
How Data Quality is Important to Your Company's Bottom Line?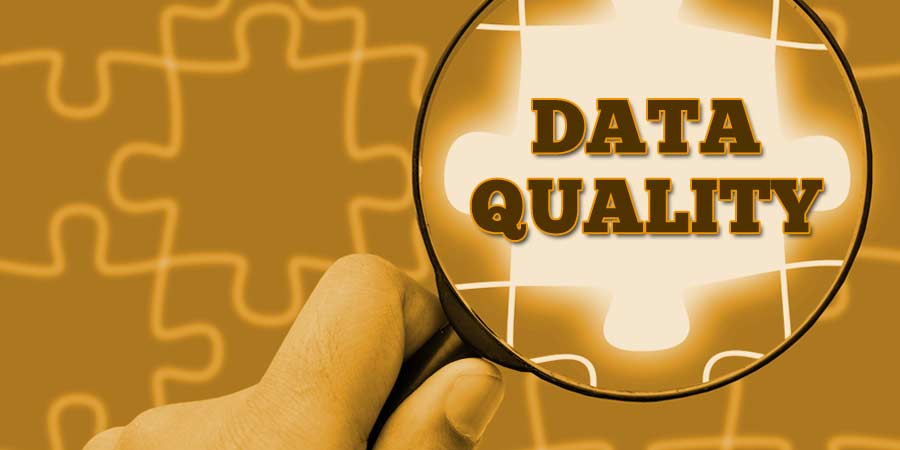 Data quality is the key element to the continued progress and success of any business, is what most of the companies know. And, enterprises also know, that poor quality of data is wreaking havoc on their revenues. Bad data wastes time, increases operation costs, weakens decision-making process, irritates customers and lose faith in the brand; ultimately worsening the execution of any type of data strategy. It is an eye opener – your data has a credibility problem.
Errors, wasted time, and lack of trust – not for free
Worldwide, bad data cost companies 23% of their overall revenue
$20,000/employee cost to bad data
16% to 32% wasted effort dealing with data
Companies throw away 20% of their revenue dealing with data quality issues
The total cost to the U.S. economy: an estimated $3.1 trillion per year
*Costs to business of angry customers and bad decisions due to bad data are not included
Over the last decade, lack of company's attention towards data quality can be discounted, as business cases were complex, disjointed and incomplete mostly. But today when data quality is one of the most vital aspects of continual progress and success, negligence is unacceptable. There has been a lot which is written and read about data cleansing, data processing, trusted data, etc., am not sure what could be the wakeup call for organizations across the globe.
Coming years for businesses is an uphill drive and not the other way round, just because an enterprise has existed for more than two to three decades. Challenges include dealing with increased quantities of data, finding that appropriate balance between data-driven and storytelling approaches and choosing the right data management teams and tools. Mobile behavior, meandering customer journeys, changing enterprise technology landscapes present multi-dimensional challenges. With the kind of datasets that organizations are operating on, it is next to impossible for them to cope up with these nextgen requirements. Yes, it is a fact.
3 reasons companies should pay attention to data quality
1. Current data quality is worse
In an article on HBR, with help of FAM – Friday afternoon method, 75 executives from various organizations were assessed to conclude just how good — or bad — data quality really was. Below are the findings:
47% of newly-created data records had at least one critical – work-impacting error. Today data and work are tied to one another and hence no one can claim that their operations are running errorless in the face of data quality issues. It is just a miracle that businesses are not only surviving but thriving in such condition.
Even with lenient standards of assessment, only 3% of data quality score was rated "acceptable". But upon asking managers as to how good their data should be, they came up with an exorbitant figure of 90%. Managers and executives considered the use of data, how much does one error cost them, and various company and department specific considerations.
No industry, government agency, or department is invulnerable to the consequences of extremely poor data quality. These finds prove that data quality problem for most of the companies, is more severe than anticipated – isn't it?
Most of your company data is unacceptable. Unless you have evidence, a team of best data cleansing experts who cleanse your data regularly; you must assume and accept that your data is dirty.
2. Consequences of bad data
Every individual, at every level of the data chain, feels and hence agrees that high-quality data is more than critical to their work. There are organizations who walk that extra mile to check their data regularly, validating and qualifying it against secondary sources and making corrections as and when and where required. But we strongly find it to be a reactive approach to data quality. Accommodating bad data in this manner is time-consuming, expensive and doesn't work all the time. Also, it merely takes care of bad data – the underlying problems that created bad data are not eliminated.
One of the consequences is that workers at such organizations end up spending more than 50% of their time dealing with everyday data quality issues. Data scientists end up spending more than 80% of their time doing it – but that is their core job. Then a series of consequences follow in form of mistakes, operational errors, bad decisions, bad analytics etc.
The deepest of all consequences is the lost trust in data. No need to answer this question – but be honest with yourself; how many of you trust the data you use to make important decisions?
3. Costs & consequences of bad data can be easily eradicated
Data quality is a business problem and not an IT problem. Enterprises are required to take up a stand, in contrast to their current reactive approach towards data quality. The approach in and around attacking data quality proactively by reaching out and fixing the root cause of data errors. It is more about data management techniques and not technology. Business data verification solutions have found great success. More than hundreds and thousands of instances lead us to conclude that the root cause to 80% or more errors can be eradicated with help of data scientists or teams of data experts, ultimately improving the trust in business data. Fewer errors mean lower costs and the key to fewer errors lies in finding and eliminating their root causes. Better data means fewer mistakes, lower costs, better decisions, and better products.
Improve your company's data credibility score
Companies that won't give importance to data quality will struggle to survive in the business environment of the future. Organizations and their employees who find reasons to discount or dismiss the bad news of bad data should wake up now – it is high time.
Enterprises should encourage their employees to think individually and with full integrity about the implications of bad data to their job profile, and define steps to reach a solution for the bad data problem. One way of ensuring data quality is outsourced data cleansing professionals, one of the extremely popular solutions for bad data across healthcare & insurance, education & BFSI, Retail & logistics, and several other industries.